After a massive move, I am trying to get my sewing room organized and I could definitely use some help.

I have a standard vintage oak and iron Singer treadle sewing machine cabinets and I have an oak vintage Singer parlor treadle sewing machine cabinet. Both cabinets will hold my gorgeous Singer 127 VS Sphinx sewing machines.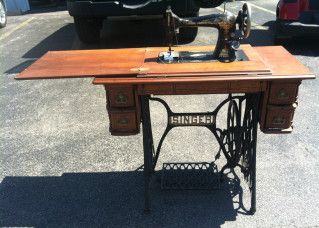 On top of the cabinets will be my Pfaff 1473 CD sewing machine and my Viking 6030 sewing machine.
Then there is my mother's Nelco J A-38 sewing machine in cabinet, and my Elna SP 33C sewing machine in cabinet. On top of them will be a Janome.

I plan on putting all of the sewing machine cabinets on the window wall of a guest bedroom.

Wall hung lamps will light the two sewing cabinets on either side of the parlor cabinet, which due to the window will not have separate lighting.



The antique oak tall chest will store my thread, and other notions.

The white wicker daybed is on the long wall flanked on one side by the small cabinet my dad made in H.S. and an antique oak low chest. Another wall hung light will be over the chest.




A comfortable adjustable office chair will serve all three sewing cabinets.

The on the next wall is a tall antique oak two drawer dresser topped by a antique oak wall cabinet and an antique oak bookcase.

I found a pair of 2 vintage padded table protectors- each is 18x42 inches and 1/2" thick on Ebay for only $24 shipping included. One side is a dark reddish brown felt, and the other is a grained vinyl. They fold up to 14 x 18 x 1 1/2 inches. These were made to protect table tops from damage. They are heavy, solid, quality old pieces, and together they weigh 7 Lbs 3 Ounces.







Why am I so excited? Because these table protectors are the basis of my new sewing cutting/ironing table!

In front of the daybed will be a large white rolling kitchen cart. The pair of heavy folding dining table protectors will allow me to use it as a large cutting table yet not take up the whole room. The height of the cart and the wheels will make the cutting table mobile, appropriate for my height, and provide needed storage. With both table protectors in place, my cutting surface will measure 36 by 42". Maybe I will sew a padded iron board pad out of an 100% cotton mattress pad!






Most of my fabrics will fit into the closet, with a few having to be stored underneath the daybed.

I have a large wooden expanding sewing box and a smaller matching sewing box. The large one will hold most of my sewing tools, with the exception of my sewing scissors which will be in a large Gardenway Kitchen Carousel. The small sewing box will hold my rug braiding equipment.

I have an old wood ironing board.

I went through my sewing machines and I found a Singer Stylist 534 sewing machine and a vintage Rotary straight stitch machine! Where did these extra machines come from, and where are my missing machines? I am going to sell the Singer Stylist 534 because it keeps losing the tension; the Rotary and the Janome may go next.