Elna Lotus, Stella and Elnita models
In comparison to a Singer featherweight sewing machine, the Elna Lotus or Stella zig zag models weigh less than 14 pounds with it's built in portable case. The straight stitch Singer featherweight weighs in at 19 pounds in it's case. All of the Lotus machines have zig zag stitches and most have additional built in stitches. Add Swiss Elna quality and you have a lightweight portable sewing machine that will outperform the featherweight.
The Elna Lotus and Stella and Elnita models are rapidly increasing in popularity and value. I love these little buggers!
1940 Elna #1 - the first portable, free-arm sewing machine with electronic motor and built-in light, The carrying case also served as a sewing table. Invented by Ramon Casas, this machine constituted a revolution in the field of household sewing machines.
1952 Supermatic - another revolutionary concept as the first domestic sewing machine with fully automatic stitches. Interchangeable cams controlled the sideways movement of the needle as well as the forward and reverse feed of the fabric.
1963 First overlock stitch on a home sewing machine.
1964 Star Series - the first electronic sewing machines, offering new features including built-in and interchangeable utility and decorative stitches as well as an automatic buttonhole.
1968 Lotus - a truly innovative concept. The first compact household sewing machine due to its reduced size and weight. The protection flaps replaced the carrying case and formed a sewing table when opened. The accessory case was built into the top of the machine. Selected by the Museum of Modern Art in New York for its "Design Collection".
1972 Elna is chosen as the Official Sewing Machine of the Olympic Games in Munich.
1973 Introduction of the Elnapress, a professional pressing system for the home.
1976 Double overlock stitch.
1978 Air Electronic - first sewing machine with electronics operated by a pneumatic foot control.
1980 Elna Stella - retained the advantages of the Elna Lotus while improving on its design and added new features for sewing comfort. Electronics became an integral part of these new machines.
1982 Carina - first sewing machine to use super overlock stitch on all types of fabrics.
1985 Elna 5000 - first Swiss sewing machine with an electronic memory and first machine in computer range.
1986 First Elna overlocks introduced, featuring one revolution tension dials, recessed movable cutter with lockable blade system, marked adjustable pressure control, sliding thread guide for lower looper.
1987 Elna 7000 introduces updatable stitch package through use of cassettes.
1987 Elnalock L-5 - first portable 5-thread domestic overlock, 2-needle, 2/3/4/5 thread machine.
1988 First ironing press with a built-in sleeveboard.
1989 Elna 9000 computerized sewing machine introduced - with 7mm stitch width, face to face and mirror image, multiplication key, 6 memories.
1991 Elna PRO 5 DC - first computerized domestic overlock, with exclusive electronic speed reducer.
1992 Elna Diva - the sewing machine that can do it all with 370 stitches, 7 buttonholes, alphabets, monograms.
1994 PRO 905 DCX and 904 DCX - first overlocks with computer controlled tensions and expandable programming with exclusive PRO Card system. 905 is first domestic overlock to offer a cover hem..
1994 Elna 9006 computerized embroidery sewing machine, offering traditional sewing type stitches as well as automated hoop embroidery. EnVision Cards provide additional embroidery designs.
1996 Elna 925 DCX - first domestic overlock to offer three variations of the cover hem, including triple cover hem.
1998 EnVision software program introduced, compatible with home computer and Elna CE 20 and 8006 sewing machines.
1999 Elna introduces the 945 overlock - the extensive memory allows the sewer to have up to 48 built-in programs.
2001 Opal press introduced – with first digital LED temperature panel
2001 Xquisit – computerized sewing/embroidery machine with fully automated threading from spool pin to needle and automated bobbin winding for embroidery
2001 Xpressive software – semi-professional embroidery software for Xquisit sewing/embroidery machine
2002 686 overlock with built-in 2 thread converter, built-in reference cards and automatic tension release
2004 7200 Quilter's Dream PRO computerized sewing machine includes industrial features –
speed and a long sewing arm – along with home sewing features – a versatile stitch package and knee lifter
2004 6600 Quilter's Dream 2 computerized sewing machine offers innovative side storage with tilt-forward compartments
2005 8200 Xperience – Elna's first embroidery only machine
2005 Xchange – multi access converter box reads and writes embroidery designs in most home formats
Source(s):
Lotus 35SP, 25ZZ, ZZ, SP, TSP models.
Stella 57TX, 57TSP, 27ZZ models.
An Elna TSP Top Special series sewing machine sews a fantastic stitch just as you would expect from the Elna sewing machines. This model was manufactured between 1974 - 1977. There are 7 super automatic stitches (of which, 2 are embroidery stitches) including the straight and zig zag stitches, some of the others are:- Blind Hem, Honeycomb stitch etc and has the Automatic buttonhole sequences modified by stitch width knob. This is also a free-arm machine and has a slide off Accessory box which is grey, installed under free arm, the free-arm is ideal for sewing collars and cuffs, trouser legs etc, there is also a built in light which is ideal for a dark room or just for that extra bit of light. This really is a lovely machine. It comes with The foot control, Needles and bobbins.
And an Elna Stella TSP. Elna Air Electronic: the first sewing machine with an electronic speed control operated by air pressure. This model featured an exceptionally low base that converted into a low free arm of new design. Electronics controlled by a air foot control, permanent magnet motor, convertible from flat bed to free arm, with the synchrocolor system for the selection and adjustment of stitches, protection cover (instead of a carrying case). The electronic foot which has two speeds allows you to regulate your machine to the exact speed required, whether you are sewing fast or slow.
This machine comes with eight stitches:
Straight
Zigzag
Elastic blind or edging stitch
Three-step zigzag or overcasting stitch
Elastic triple seam
Triple zigzag
Elastic edging stitch
Tricot stitch
These two Elna Stella TSP machines really purr when sewing; they are beautiful and so quiet. But I would not expect anything else being ELNAs. The machines feel solid unlike the new plastic ELNAs of today. The simplicity of the machines and solidness of them really makes them pleasureable to use and so handy for moving around. The stitching is perfect. Why they ever stop making this design machines, I will never know, they are just brilliant in performance, size and handiness.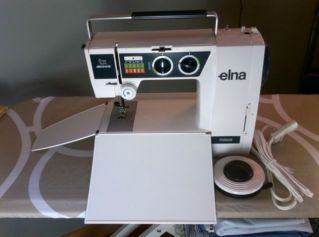 An Elna TX Electronic. An Elna TX Air Electronic Sewing Machine, This Elna TX is the Elna born in the year of the 50th anniversary of Tavaro S.A manufacturer of the renowned elna sewing machines, This sewing machine performs according to the same principles as the Stella-tsp, The Elna Tx has not just been given a new colour scheme, but also has 12 utility and decorative stitches, instead of 8. Green: straight stitch, stretch seam, interlock, zigzag, elastic blind and edging stitch, overcast stitch three-step zigzag. Red: elastic simple seam, net stitch, overlock stitch, triple zigzag, decorative edging stitch or tricot stitch. It thus has in addition the famous overlock which sews and overcasts in one operation - highly valued for stretch fabrics, The interlock - for sewing loosely fabrics, Net-stitch for topstitching or simply following the outline of a decoration (Clothing table cloths, serviettes etc), and A Virtually indestructible stretch seam.
This machine has an electronic speed control. With the sliding control on the front right side of the machine you can adjust the slide upwards or downwards between the Hare and the Tortoise to get the necessary speed

.
This machine comes with accessories in the top of the machine, Pneumatic foot control, Instruction book. There is also a light switch and motor switch, each switch can be turned on or off independently. It is also very light in weight making it very easy to carry around the home or to sewing classes.
An Elna Stella 37 SP Air Electronic. This machine has been a very reliable machine for me. It sews fine as well as very thick fabrics. The stitches it has are straight stitch, zigzag, three step zig zag, and elastic blind hem. It also made a standard buttonhole, in a 4 step process. All the stitches are built in, so there is no need for cams. This machine is an upgraded version of the Lotus. I like that the machine is very powerful for being so light, and would be an excellent machine for quilting, and is very portable. The case is made of Lexan plates that you detach from the machine.
I have two full sized antique Singer sewing machines [one was my grandmas]. It is a very simple, beautiful, heavy duty machine. It does perfect straight stitches but the best part is that it sews through 8 layers of denim without issue. It has a light in the back which is it's own separate unit and is removable. It runs smooth. After I oiled it, it sounded so smooth and sturdy, it was music to my ears.
Singer sewing machine with a vibrating shuttle.
I have my mother's Nelco J A-38 sewing machine.
I have an Elna 33c SP sewing machine. The best thing about this machine is it's incredible stitch quality. I can put just about any kind of thread (metallic, top-sitching, cordonet) in the top, and sew on any kind of fabric and I get flawless, even stitches. It's very easy to adjust the bottom tension also.
It's powerful, and chugs right through multiple layers of denim. But it also handles light fabric well. 
Then there is an Elna 62c SU sewing machine. It runs so smoothly and has a great stitch. It has about 6 utility stitches and then has the cams that can be put in for a variety of decorative stitches. I love this machine and have done more sewing the last month because it is so fun to use. The cabinet it came in is a Parson's cabinet and I am really enjoying the whole set up. Made in Switzerland, all the feet and accessories are of a high quality. The machine is a rotary hook top loading model that sews very smoothly and quietly although the motor is substantial and offers good needle penetration. There are 6 built in stitches- in addition to straight stitch, there is zig zag, stretch blind and edging stitch, over casting stitch, multi stretch stitch, blind stitch. These can be adjusted with the stitch tuner to balance the stitches on different fabrics as can the optional cams. The pressure foot pressure is self adjusting and so far has fed the fabric very nicely for me, but is not of the sort that you can override and adjust yourself. The feet are low shank screw on feet. Included as standard were General purpose, General purpose in a black Teflon version for non-stick properties, embroidery foot, buttonhole foot with two channels underneath for the buttonholes stitch to travel under, darning foot and darning plate, zipper foot, 5 bobbins (dome top with 7 holes and a solid bottom) plus oil, brush, seam ripper, screwdrivers. Included originally with the SU were also 2 single Elna-discs and 10 double Elna-discs. Oh, and I love the way the screw for attaching the feet with is so easy to hold, it has little wings that can be turned out sideways to the screw and be used for additional leverage- handy for those with weaker fingers. Stitching is very nice. What you'd expect of Swiss production. There are many incremental needle positions adjustments possible for topstitching, fine tuning of seam allowances, or for tapering during satin stitching- monogramming is possible. I like and need this feature in my sewing. Stitches can also be adjusted for balance using the stitch tuner, if they form too far apart or too closely. This is a nice feature that not all machines offer today- typically only the better quality ones.
The foot pedal is unusual, its more of a pedal with two small buttons. One on the right is for resting the side of your foot on and the one on the left is for the side of the foot to slide over and press down on to operate. The foot came in two varieties. The earlier ones as I have offer a range of speeds like any pedal does. The newer ones have a switch that is effectively a speed limit, capping the maximum speed when set to the minus symbol. It doesn't actually have any different lower gear than the machine itself has, that can be accessed with the normal foot pedal. It just makes it more comfortable to sew more slowly.
The powercord is easy to plug in. If yours isn't, it may have changed shape with age. Also it can when this happens be put in the wrong way, and you will know if this happens as the machine light will flicker when you wind a bobbin or sew. The cord should face to the back of the machine when it is properly inserted- there is a little groove on the bottom edge that needs to line up with the shape of the power cord when inserting it.
There were loads of great feet available as additional purchases. Also available were additional cams which have become highly sought after by Elna users and those wanting to sell them. Although with searching they can be found for reasonable prices I've noticed they are more often ridiculously high prices, far more than they cost at the time or are really worth- although some people will always pay silly prices for them. I got some extras from my local sewing shop that were new, but had been in storage, and some second hand ones too. Some were as little as $3 each and the newer double cams were $8 . They really extend the stitch and project options from the basic 6 stitches that come in the machine. I have sewn nearly all of them out so far and they stitch out very neatly and consistently.
UPDATE: THIS MACHINE IS MISSING IN ACTION!
The most expensive is my Pfaff 1473 electronic sewing machine/embrodierer. It still produces great stitches and consistent powerful needle penetration. The 1473CD model was manufactured from 1990-1994. (1473 without CD was made from 1991-1992). It's a computerized model with 355 built in stitches - it was the basic enhanced utility stitches, and the other hundreds are decorative - I've used a lot of them in my sewing, memory for 3262 (stitches? have to find the user manual - I know it has separate memories of stitch patterns that you create and they must be based on the total number of stitches that the machine can hold? It will hold a "memory" of a stitch pattern until you delete it - some of mine have been in memory for years.); 9 auto buttonholes; 4 alpha/3 numeric styles; dual feed;l ow-bobbin thread indicator; battery back-up for the memory - my original battery hasn't failed yet. This machine is great. Very quiet and smooth running. It has a huge array of stitches or you can use the Creative Designer to design your own. It has a one-step buttonhole but I have not used the buttonhole on this machine - no reason really, I just use the 7570 for that. The 1473 also has the famous Pfaff IDT feature (built in walking foot) which is wonderful and a breeze to use. The widest stitches on this machine are 6 mm. The feet are snap-on and there is a big variety available.
This was the top of the line machine at one time and several guide books were written Books by Glenda Black, Cindy Loosecamp, Philip Pepper were written with specific instructions for the 1473. Pfaff also had a big workbook but I have not seen it Great machine!!.