I am trying to get a sewing class started for elementary school kids in my small town and have been working on the idea for several years. To prepare for this I have bought quite a few things for the kids to use and I am almost ready.
A complete collection of Singer Sewing books was purchased.
When I decided to teach sewing, I knew that the sewing machines I chose for the job were of the utmost importance.
Since I don't know where I will be teaching the class I wanted machines that were compact and lightweight. Who knows if I might have to carry them back and forth to and from my home or if the lockable storage space available is spacious. The machines I chose needed to be great stitchers and if possible have a few different stitches besides a good straight stitch. I wanted simple, easy to operate, sturdy, dependable quality machines so that my young pupils would not get frustrated by machine problems. I wanted all of the machines I used to use the same needles, feet, and bobbins to lessen confusion. Cosmetic issues did not matter so much because then I wouldn't have to worry about the little nicks and scrapes incessantly. And more than anything else, the machines had to fit into my very limited budget. I need six of them.
Elna Lotus, Elna Stella, and Elna TX Electronic sewing machines from the 1970s and 1980s are great little easily portable workhorses. Carrying one out to the car is easy and they sew a great stitch.
They are sturdy and sew well enough to allow the kids to make things they are not ashamed of and to keep them enthused. And if one of them gets an extra chip, I don't worry about it as much as I would a cherry machine. For my use, a great functioning, sturdy, easy to operate, less than cosmetically perfect vintage machine is best. And they cost considerably less to buy.
Elna Lotus SP sewing machine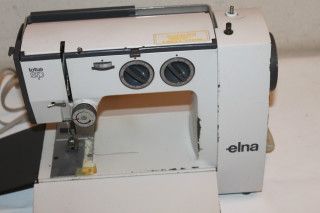 Elna Lotus TSP sewing machine
Elna Stella SP sewing machine
2 Elna Stella TSP sewing machines
Elna TX Electronic sewing machine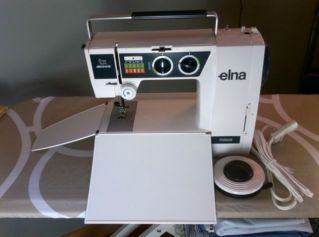 A Wrights Sidewinder portable bobbin winder
I bought 6 of these cute little vintage Singer sewing boxes
I bought 6 pairs of Gingher lightweight scissors
I bought these adorable animal pin cushions on Ebay a few years ago.
Lots of thread, pins, seam gauges, tape measures, needles, seam ripper, thimbles, sewing machine needles, bobbins, needle threaders, fabric, and etc. were purchased for this enterprise.
I could use another small Elna sewing machine, but I know I something will come available at a price I can afford.