I found a $14 Walmart clearance priced Shark Professional 1568N 55 steam iron. 1600-watts dry/variable steam iron with powerful steam bursts has precision temperature controls, anti-calcium feature to prolong the iron's life, stainless steel sole plate for superior glide and heat retention. Anti-drip prevents spitting, multi-position auto shut off, self cleaning. Full, soft grip handle, 10' cord. Metal/plastic. ETL Listed. 13¾"Hx7½"Wx5¾"L
I LOVE this iron! It is the best iron I have ever used and I am so glad I took a chance on it when I saw it on the clearance shelf at Walmart! It heats very hot and evenly and produces tons of steam! It is heavy, but the weight, the heat, and the steam presses fabric like nothing else I have seen. I love it!
The heating ability, steam production, and hand comfort of the Shark Professional 1568N 55 steam iron is so much superior, that I decided to buy another Shark on Ebay for $20! The Shark presses fabrics like they were butter!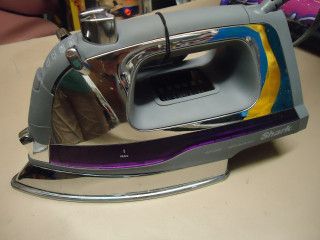 My niece recently moved into her first apartment a few months ago, and I in an excess of generosity gave her my best ironing board. Then as life often does, I decided to start sewing seriously again. I was frustrated with the instability of my beloved but broken vintage wood and iron ironing board. It looks just like this one!
I started eyeing my niece's ironing board and regretting my generous zeal. My sister nipped that idea in the bud and I kept my eyes open for a bargain.
Desperately, I looked at the ironing boards leaning against the side of the building at my favorite thrift shop. The sturdiness of the first one caught my eye. It was a lot heavier than the new versions they sell today, and wonder of wonders, the leg supports have steel rods reinforcing them. The manager came out while I was debating, and her comment that she would sell it to me for $1 clinched the deal.
I found out that I had bought a top of the line Mary Proctor ironing board by searching the internet. These ironing boards were made in the 1950s or 1960s. I checked Ebay and they have none for sale. I sew a lot and they are truly my best sewing room product next to my Necchi Lelia 515 sewing machine and Sharp steam irons!
Who would have thought the very day after my sister told me I could not have my old board back, here I am with a much better, sturdier board for my sewing room for only a buck! I immediately [within a week or so] went on Ebay and found a board cord holder and an iron holder for about $20 shipping included.
In my master bedroom suite, I have a thrift shop over the door ironing board and my second Shark G1568 steam iron.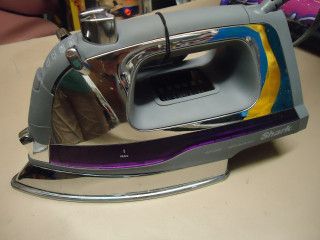 I invested in the much vaunted Reliable V100 steam iron for only $65 including shipping. Reliable V100 Digital Velocity Home Ironing System. The new Digital Velocity V100 is the most advanced stand alone iron in the world. You can now enjoy professional ironing quality and speed with the simplicity of using a traditional iron. With a revolutionary and patented technology, the V100 incorporates an internal heating element and pump system that produces more steam continuously (up to 30g/min) than conventional irons. This guarantees a professional finish to your garments. Since it goes for $139 usually, it is a real steal!
After using this iron for a period of time, I have decided that I really don't like it as much as the Shark, so I banished it to the basement guest room suite with the over the door thrift shop ironing board.