""What is old, is new again." Nowhere is this more evident than in the world of fashion and textile design. Vera Neumann, better known simply by her first name and distinctive signature, created clothing and textiles that are as fashionable today as they were in the 1960s and '70s when the artist was at the height of her career. Designing for the "average woman," Vera was known for her bold geometric designs and bright, splashy florals." Vera's vibrant scarves, blouses, dresses, sleepwear, kitchen textiles, bed linens, and dishes were widely marketed and sold. Vera's designs are the focus of Niecy's apartment.
The kitchen project was/is a big hit with my niece and my sister. So much so, that they want me to work on the living room! The apartment is a standard issue white walls, no painting allowed beige brown carpet model. Since we can't paint the walls, color has to come via the furnishings. And the apartment is so small that most colorful accessories must be working accessories. We have no room for accessories that do not pull their weight.
On Walmart.com I found a nice little orange front door mat.
My last thrift shop junket resulted in me finding four brand new, still in the package Home Goods orange cotton curtain panels for $8 a panel! I snatched them up!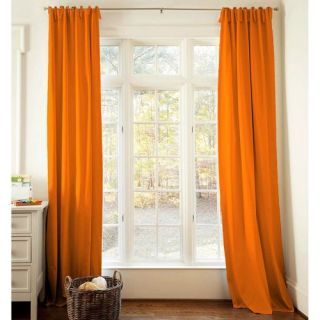 I have purchased 8 Vera butterfly design napkins that I sewed into 4 pillows.
I will use the four Vera napkins I got on Ebay to stretch on a set of 4 wood frames -- instant art!
I found this lamp at an auction and paid $1! The shade was an extra one I had. I bought a can of mellow yellow spray paint, and the transformation was fantastic. Less than 3 days later, my cousin gave us a matching lamp! We went ahead and painted it yellow also!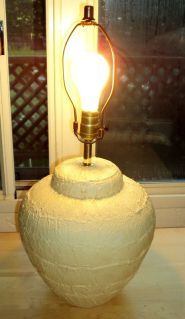 I think that my niece's hand me down sofa and armchair were revitalized when she got soft cotton duck slipcovers from Ebay. The black color will hide dirt [my niece is not the greatest housekeeper]. The vibrant sofa pillows will really pop against the black!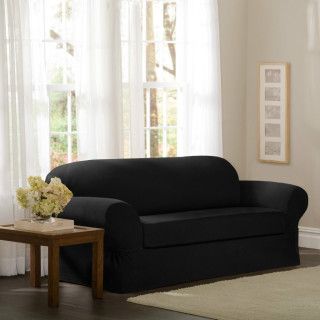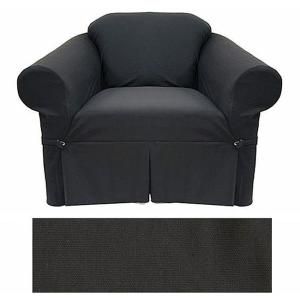 An old rectangular dining table placed against the wall makes a spacious study area for the two college students who are sharing this apartment.
I talked my sister into splurging on the chairs for this "desk". We spent a only $130 on this orange leather pair of parsons chairs on Ebay. They generally run between $200 and $300 per pair. They are both elegant and comfortable for hours of study and really make a positive impact in the space.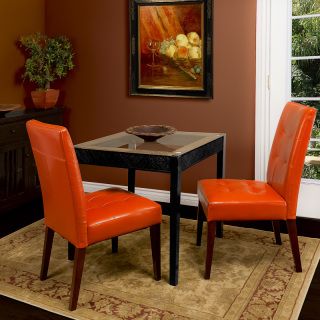 An inexpensive framed orange and yellow flower poster pops this wall, along with two small orange lamps which illuminate the study area. A black shelving unit next to the desk holds school and reference books.
My sister and I found a couple of end tables, and a old solid oak 6 drawer dresser at an auction for only $4 total. A careful sanding and a few coats of black glossy paint turned these decorating orphans into star players. The dresser is now an elegant entertainment center [minus two of its top drawers], and the old cabinet end tables now proudly hold the yellow lamps. Extra orange and yellow butterfly placemats protect the table tops.
Another ugly duckling cabinet end table painted black substitutes for a coffee table.
Over the sofa we hung 3 mounted color block cotton panels in pink, yellow, and orange.