No, I have not yet given up! I just intend my niece have some quality cookware if it kills her. Along this line of thought I bought this orange Le Creuset chicken fryer on Ebay. A little bit skillet, a little bit dutch oven, it can substitute for both.
While going through my enormous cookware inventory, I found an enameled cast iron orange Le Creuset open roasting pan can substitute for a baking pan, and will bake a mean cake!
Also found in my cabinets is the most versatile of all -- a nice large oval orange Le Creuset dutch oven. It will make your soups, stews, and spaghetti, and it will roast your chicken or pot roast. I had several extras.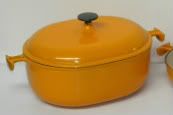 I plan on getting Niecy a Corning Spice of Life teakettle, which will come in handy for making tea, coffee, or hot chocolate or whatever.
And a Corning Spice of Life counter saver will do just that -- save her counter from burns.
My main goal though is to get Niecy to accept a set of Corning Spice of Life bake ware. I love Corning for many reasons: dishwasher safe, oven safe, and microwave safe -- I love this stuff! I took some items from my personal collection, including a round cake pan. I even included a white Corning pie pan. A Corning Spice of Life loaf pan will bake crusty bread and make juicy meatloaves.
I found a mini Bundt muffin pan in my cabinets, along with a larger Bundtlette pan.