I have ALWAYS believed that a good kitchen needs three different electric small appliances. I believe in buying the best brands/models available even if I have to buy them secondhand.

A great mixer
A quality blender
A large capacity durable food processor

I call them my "Holy Trinity". Yes, some of their uses overlap, but one can not truly substitute for the other in a well equipped fully functional kitchen.

The mixers I cherish for many reasons are Kitchenaid model G mixers in a chrome finish. One is a 1930 model, and the other is a 1936 model.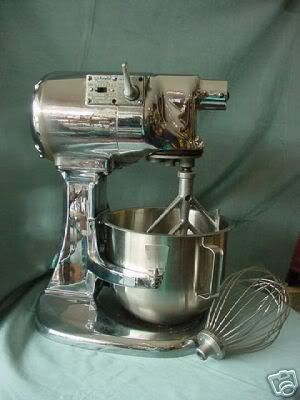 The reason why the Hobart N-50 mixer was not given number one top ratings by America's Test Kitchen is because of the high price of a new Hobart N-50.

But if amortized over 20 years, your $2,300 purchase makes a lot of sense. Especially if you think of the cost of replacing and/or repairing a new KA every 5 years or so.

And you would be surprised that after 20 years, your well maintained Hobart mixer will still be worth between $400 and $700 on the secondary market?

The Hobart is designed for use in restaurant and other commercial kitchen heavy duty applications. It is also frequently used in laboratories to mix things such as cement samples and other tough mixing jobs. Such a mixer in a household setting should last several generations of use. It will not stall or stop on heavy bread or pizza doughs.

One reason I like the N-50 5qt Hobart mixers so well and make it worth the money is the #10 attachment hub. That means they can use all of the KA hub attachments but with more power and dependability than a KA mixer.

Even Cook's Illustrated stated that the N-50 was far more powerful than the KA, and that is wonderful when doing things like grinding wheat into flour or grinding meat, etc. The grain mill is one of the attachments that give the KA models a real workout and cause stripped gears. A N-50 can handle it without breaking a sweat.

New N-50s have the spiral dough hook and the older ones can handle it also, according to a Hobart dealer. They have 11 tine whips and always have had them.

A good used N-50 is much more affordable, and you will have it also for a lifetime or two. A couple of scratches or a little chipping will in no way affect the superior performance. You can find them every day on EBay going from $200 to $700 each which is what you would pay for a new KA.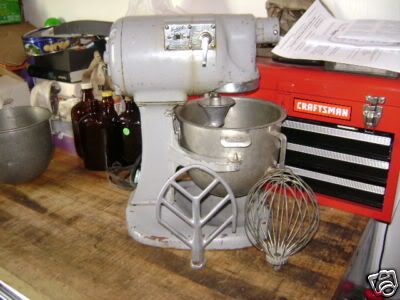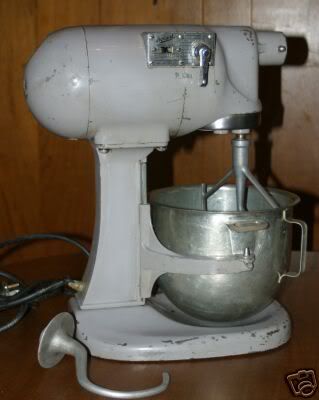 Imagine buying a used N-50, using it for 10 years, and having the ability to sell it for as much or more than you paid for it [depending on how you maintain it].

My KA model G mixers are only slightly less powerful than the N-50! They are the N-50's predecessors with only very slight differences. I would have paid less for them if they had a painted finish, but the chrome is truly beautiful. And the chrome is rare and much sought after by collectors, so they were a good investment for me. They are worth about twice what I paid for them years ago, and I have had the use of them all these years.