Julia Child liked to describe herself as "a knife freak, frying pan freak, and gadget freak." And the place where she nursed her obsessions was Dehillerin – the encyclopedic cookware store, near the Pompidou Center. And the knives she choose were carbon steel Sabatiers.


Of course Julia's knives are now vintage pieces, similiar ones are still available on the secondary market where I shop anyway. They are available for comparable or cheaper prices than the more common Wusthof Trident and Henckels. That is how I accumulated my large set of vintage Sabatier knives, and I was even able to score a wonderful large Sabatier store display case on Ebay.
"Sabatier is the brand name or makers mark used by several kitchen knife manufacturers. The name Sabatier is considered to imply a high quality knife produced in the Thiers region of France using a fully forged process. The knives of some of these manufacturers are highly regarded by professional and amateur cooks alike. There is some controversy over the originality, quality and authenticity of some of the manufacturers using the brand name.

The use of the Sabatier name is an anomaly of "branding" because the name was used by many different companies before intellectual property or trademark laws were fully established in France. In order to distinguish between the various different makers of Sabatier knives, manufacturers are required to include a second word or symbol along with SABATIER. Over the years many marks were registered. In 1979, after the sale of the Moutier Sabatier brands to Cuisinox, the various holders of the brands formed an association to protect the brand name."
So all Sabatier knives are NOT the same. The knives since about 1986 are now made of recycled steel, and there was a wide different in quality under the Sabatier umbrella anyway. The best knives are valued by chefs worldwide. The worst is really bad. KNOW YOUR KNIVES!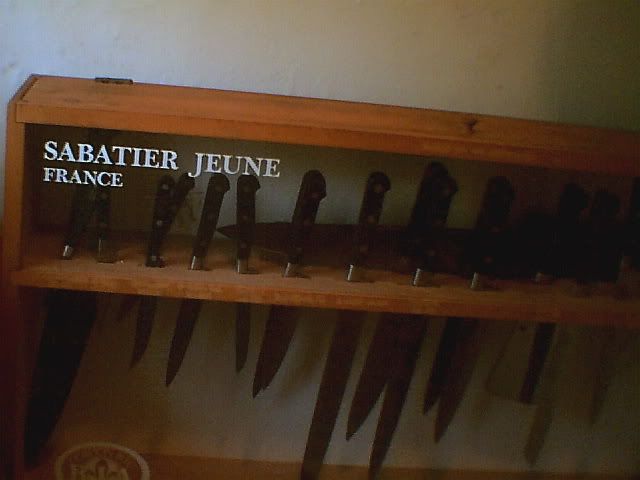 To keep my knives sharp, I use a Norton multi-stone sharpening system. I found a great video of a young Jacque Pepin teaching how to sharpening a knife using this system and it is really easy.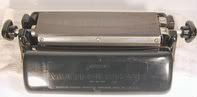 CUTTING BOARD
You can get by with a small store bought board or even buy a nice Boos Board, but I didn't. I wanted a standing butcher block table, and I found me one for only $200! It is solid maple and 36 inches square. I love it. I use the table for veggies, and for meat I have the old butcher block top of a portable dishwasher -- 24 inches square for meat. You know how I got my table? I made friends with the people who own a used restaurant supply store!

I told them what I wanted and during their work, they found my table only a few months after I told them. They were so very proud of having it for me, it was like a couple of parents who managed to find the perfect bike for their 10 yr old! They were excited too! And since they were friends and knew I did not have a lot of money, they sold it to me not only cheaply but with layaway.
Julia Child had one like this, tucked between two cabinets in her kitchen.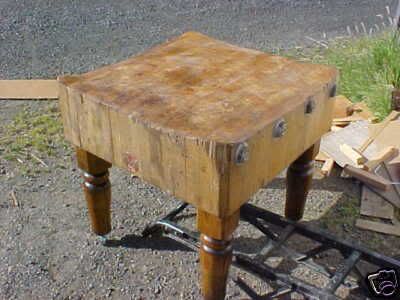 DEXTER RUSSELL
"Dexter-Russell is a cutlery manufacturing company in the town of Southbridge, MA, It is the largest US manufacturer of professional cutlery, and is also the oldest cutlery manufacturer in the United States."
Dexter Russell is the BOMB as far as their forged carbon steel vintage line of meat forks, baker's bench scrapers, turners, knives, baker's spatulas, cleavers, etc. are concerned. They are indescructible.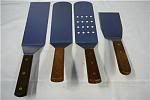 For comparable quality cooking spoons, ladles, tongs, dishers, skimmers, etc. let me recommend Vollrath. I love these utensils and so do many restaurants!
How could I forget this great Wusthof Trident pounder/trimmer? It is perfect for flattening the heck out of a pork tenderloin medallion because it is so heavy! I love it.