After the mixer, the second part of the Holy Trinity is the food processor.
A Robot Coupe R2 is the food processor that I recommend for the heavy duty work done in a gardener's kitchen. It will efficiently shred, slice, grate, and chop fresh vegetables. This makes the preparation of raw vegetables so easy that gardener's labor is saved while preserving vegetables or fruits. For the gardener/cook a Robot Coupe is a godsend and well worth the high cost of even a new one. There is another advantage to the R2 over the Cuisinart DLC-X [the equilivalent sized home food processor] -- the food chute allows you to slice and shred to your heart's content without EVER worrying about over filling the bowl!
The R2 is the cat's meow - this is the model that Cooks Illustrated said was head and shoulders above any of the consumer processors they tested - but in addition to costing >$1,000 when new; it is very large.
It is a very old model from the early 70's but it is still the bomb! Powerful, easy to use, and versatile. And yes, they still sell many many different disks. I bought mine from a used restaurant supply store for only $50.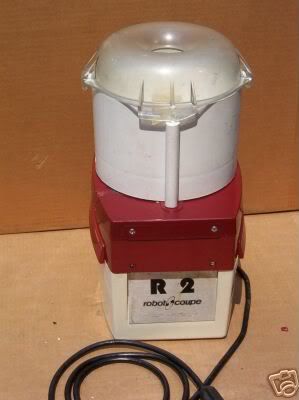 The final leg of the trinity is the blender. I do not recommend a regular blender, I own a Vita Mix -- a Vita Mix 4000 to be precise. There are newer models out there but for my money this is the best.
"The Vita Mix 4000 is simply a heavy duty, high powered machine with multiple speeds and reverse. The motor has three or four times as much muscle as an ordinary blender, and this gives the four stainless steel blades the power to chop through ice or tough grains. Reverse permits thorough masticating, throwing food back into the blades for further grinding; models without reverse just throw food up against the sides of the blender."