In October I put my vegetable raised garden beds to sleep under a thick blanket of leaves, covered in a blanket of hay. It looks so peaceful there and I am comforted by the knowledge that the leaves are turning into a rich leaf mold that is enriching the soil for next season.
My garden in 2011.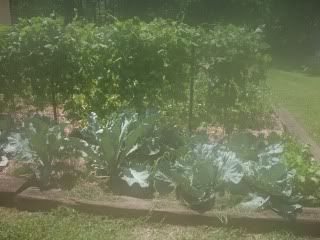 My good friend Isaac is a landscaper, so he has been bringing me huge amounts of bagged leaves this year. I am sooo thankful because he has saved me lots of money that I would have spent on buying hay from a farmer. And leaf mold is garden gold and you can never have too much of it.
Thinking of the garden has me planning new projects for this year. I am going to buy more used railroad ties and make the raised beds taller this year. That way the beds will hold more of the organic material inside, and raise the height of the fertile soil higher. I hope to have the beds three ties high in a few years, to save my aching back.
I will continue to add horse manure to the beds as I can obtain it, and bagged alfalfa cubes for more nitrogen.
My rose garden will be mulched this spring after the daffodils, tulips, and daisies are up. I will mulch heavily with leaves and add a layer of hay over the top. I might even add some alfalfa cubes too. This is the rose garden last summer. It has grown wonderfully in just a year.