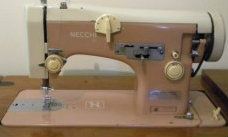 I just found a Necchi Lelia 515 sm in a case at the thrift shop today for $10! It looks to be in great shape, and I can't wait til I get home to play with it!
This machine was built in Italy between 1963 and 1971 with all metal internals and a cast metal body and was designed for household use. The 515 Lelia was the top of the Lelia line. These machines where very well made with great precision by Necchi and this is demonstrated by the quiet hum of this machine as it works effortlessly through both heavy and light materials.
It is built like a tank, runs like a dream, and will outlast any modern machine. The cams are interchangeable with the ones for the Necchi Nora and are very hard to find. I have my eye on four of them as we speak. Wish me luck! There is a built in buttonhole attachment for the Lelia but I doubt I will ever find one.
Here is more information about Necchi sewing machines.
BC Flat Bed; Oscillating Hook; Straight Stitch; Black; Italy
BCJ Flat Bed; Oscillating Hook; Straight Stitch; Black; Italy
BF Flat Bed; Oscillating Hook; Straight Stitch; Black, Green, or Pink; Italy
BF Mira Flat Bed; Oscillating Hook; Straight Stitch; Gray; Italy
BF Supernova Flat Bed; Straight Stitch; Oscillating Hook; Gray; Italy; 1955-1962
BU Flat Bed; Oscillating Hook; Manual Zig Zag; Black or Green; Italy 1948-1953
BU Mira Flat Bed; Oscillating Hook; Manual Zig Zag; Olive; Italy; 1952-1956
BU Nova Flat Bed; Oscillating Hook; Manual Zig Zag; Dark Green or Black; Italy; 1953
BU Supernova Flat Bed; Manual Zig Zag; Oscillating Hook; Gray; Italy; 1955-1958
Esperia Flat Bed; Oscillating Hook; Straight Stitch; Italy; 1958-1961
Miracle Flat Bed; Oscillating Hook; Straight Stitch; Black; Italy 1955
Miranda Flat Bed; Oscillating Hook; Manual Zig Zag; Olive; Italy; 1961
Supernova Ultra Flat Bed; Oscillating Hook; Automatic zig zag; insertable cams; Italy; 1958-1963
510 Lelia; Flat Bed; Oscillating Hook; Straight Stitch; Pink/Cream; Italy; 1961
512 Flat Bed; Oscillating Hook; Manual Zig Zag; Cream & Green; 1963-1971
513 Lelia; Flat Bed; Oscillating Hook; Manual Zig Zag; Buttonhole; Pink/Cream;
Italy; 1961
514 Nora; Flat Bed; Oscillating Hook; Automatic; Insertable Cams; Gray or Pink;
Italy; 1957-1961
515 Lelia, Flat Bed; Automatic with BH; Insertable cams; Cream & Pink; Italy;
1963-1971
522 Lycia; Flat Bed; Oscillating Hook; Manual Zig Zag; White; Italy; 1955
523 Flat Bed; Oscillating Hook; Manual Zig Zag with BH; Pink; Italy 1963-1971
524 Lycia; Free Arm; Oscillating Hook; Automatic; Insertable Cams; White;
Italy; 1955
525 Flat Bed; Automatic with BH; Italy; 1963-1971
530 Mirella; Free Arm; Straight Stitch; Convertible to handcrank; Pink; Italy;
1963-1971
532 Flat Bed; Manual Zig Zag; Oscillating Hook; Pink/Cream; Italy; 1954-1962
534 Supernova Julia; Flat Bed; Oscillating Hook; Automatic with BH; Insertable Cams;
Lavender; Italy; 1961-1971
544 Lydia; Free Arm; Rotary Hook; White; Italy; 1962-1971
554 Flat Bed; Automatic with BH; Cream & Beige; Italy; 1963-1971