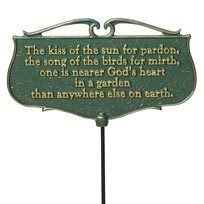 On my tiny back porch I have a white wicker storage bench seat and two white wicker rockers. The bench looks a little bit like this -- I will post a photo of the real thing later. I made yellow vinyl cushions and red tweed upholstered rocker cushions.
And the two wicker rockers look a little like this one.
A small china floral bird bath pedestal table serves the rockers.
I put up white plastic trellises to create shade and planted climbing roses on them.
Against the house, near the vegetable garden beds and water hoses, I placed two vintage rustic wood benches. I keep a couple of large wash basins on top to provide a jerry rigged "outdoor sink". This is where I wash vegetables from the garden. Underneath the benches I store the yellow cat litter buckets I use for gardening.
On the lawn when I am entertaining is two sets of bistro tables and chairs.