"Yellow shines with optimism, enlightenment, and happiness. Shades of golden yellow carry the promise of a positive future. Yellow will advance from surrounding colors and instill optimism and energy, as well as spark creative thoughts.
How the color yellow affects us physically
Stimulates mental processes
Stimulates the nervous system
Encourages communication "
Every kitchen needs a clock, and I wanted one that would make me smile. This funky little wall clock does....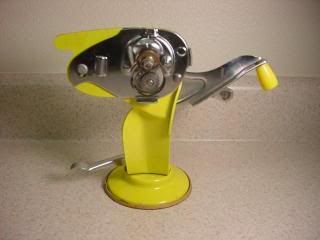 When I saw this can opener, I thought it was the weirdest thing I ever saw. Works pretty good too!
I can't reach the top shelves of my upper kitchen cabinets. I doubt anybody can unless they are NBA stars, so I use this for safety. It rolls easily out the way.
I don't drink a lot of coffee, but when I do, this drip Bigen coffee maker does it for me. I like the ease of cleaning and its retro style.
My mother gave me this Cosco 1950s era rolling cart. I have never regretted making room for it in my kitchen. I can easily roll it anywhere in the kitchen that I need a little more working space.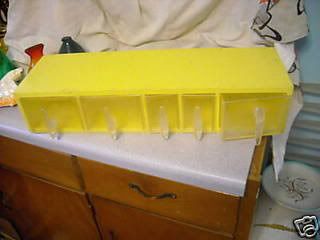 When I saw this, I thought, "What the heck is that?" But it is a 1960s era drawer type canister thingy. I re-considered my instant rejection when I decided that the largest drawer could hold salt, another could hold bay leaves, and the rest could hold dried onions, garlic cloves, and still have room for something else. And the flat top could hold the spice grinder sets I need by the stove. Spices taste better freshly ground!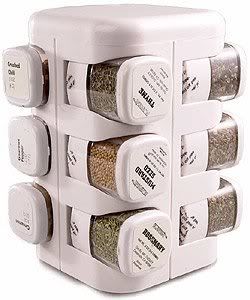 No, this is not an "essential" pot, but this Le Creuset chicken fryer is an extremely versatile pan to not only fry chicken, but to make things like risotto, or swiss steak, or any number of other stove top dishes. AND it can easily go into the oven.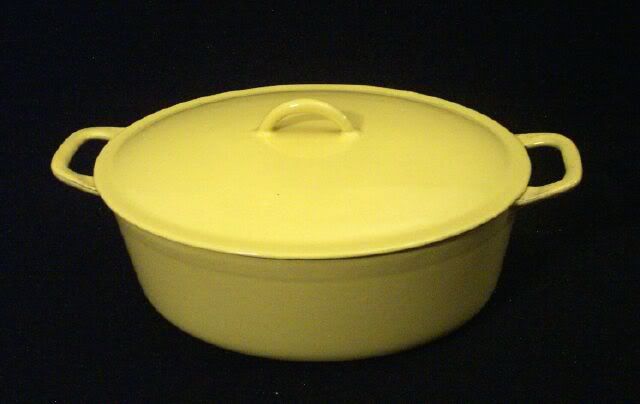 I have several yellow Descoware oval roasters in various sizes. One is big enough for a turkey!
I have several of these Le Creuset open roasters that I use for everything from roasting, to lasgna, to cakes.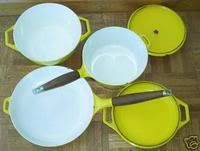 Yes, I know that enameled cast iron is not the "best" material for saucepans, but they work fine and they look great.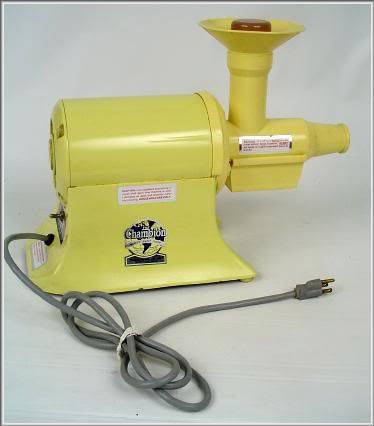 The Champion electric juicer is not only useful for making vegetable or fruit juices but also with the addition of an optional attachment, will grind your wheat into fine good flour. And mine adds to the sunshine feel in my kitchen.
And although it is not a necessity, I think a teakettle is a good thing to have. I do not have instant hot water!