My Aunt Phyllis is moving to Houston soon. Her husband of over 30 years recently passed away. My niece Shaina is moving into her first apartment. What does this mean? It means there is a lot of shuffling around going on.
Aunt Phyllis sold me her set of blue Le Creuset cookware. No........I don't need any more equipment, but Shaina needs cookware, and I gifted her with it.
Shaina's cookware looks like this.
And as I sorted through my things, I found a set of two mixing bowls that will work for Shaina if she wants them.
I am considering loaning Shaina one of my three Kitchenaid model 3B mixers.
And maybe one of my smaller Cuisinart food processors.
I have lots of Oxo Good Grip utensils from my "gift stash" that she may have if she likes.
And if she needs knives, Aunt Phyllis has a set of carbon steel Old Hickory knives she may sell.
As a matter of fact, Auntie may have a Corning baking pan that could double as a roaster for Shaina.
Shaina can have several blankets from my huge stash of linens.
Well, this was my plan anyway. But it did not account for the vagarities of youth! Shaina has her heart set on a cheap set of cookware from Walmart. My lovely little niece has decided she does not want any of this, so I now have another plan.
My favorite cousin Jeff will get the Le Creuset cookware, a Hobart N-50 mixer, and a set of F. Dick knives in its own carrying case [from the CIA cooking school].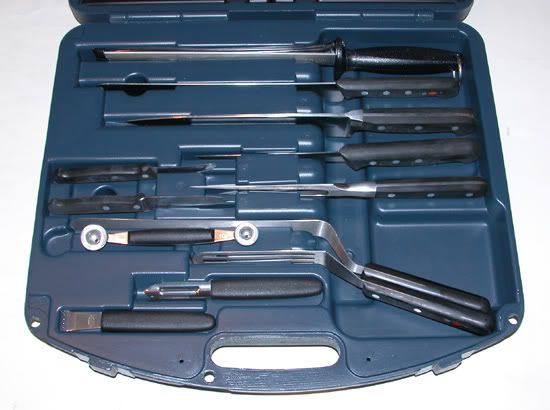 My Aunt Phyllis did a number on me yesterday. I was minding my own business when she called telling me she missed my Hobart N-50 mixer she had been using. Auntie was going to bake a dozen pies for a bake sale, and she got to thinking. Could I sell her one of my mixers, so she could take it to Houston? I was caught off guard, and before my mind knew what was going on, I said yes. Now Auntie has my Kitchenaid Commercial mixer for what I paid for it.
I am going through the grieving process right now. I hate to give up one of my mixers!