"Kitchens are a great place for the family and friends to gather and chat about their day. Sleek lines and bright colors from the 40's and 50's create a homey atmosphere in the kitchen. It brings to mind happy times eating homemade cookies and treats after school which is the reason I chose to decorate in a vintage style."
I can get a great 1940's look without spending a bundle and still be able to fill my kitchen with some nice collectibles. Here's my game plan.
Since I already had my yellow, red, and flame enameled cast iron cookware and these are popular colors from the 40s, I decided to continue with these colors in my decorating plan. An advantage of the red, yellow, and white theme is I can also add in a fruit theme on top of it like apples or strawberries and in my case, citrus fruit.
"When designing, kitschy means fun but not old. Meaning, your space should inspire frolic and joyous outbursts but certainly not invite ghost-hunters to drop in for lunch. Consider painted white chairs with fun pillows or even stainless steel. Kitschy isn't your grandmother's wooden chair. Well, unless it's slapped with paint and happiness.
When selecting accessories for your kitchen, choose items that scream, "nostalgia" without boring you to pieces. If you shop online, search for items using the terms: bright, vivid, nostalgic or retro. Think about wall decor, linens and your countertop accessories in terms of quirky but tasteful. Think whimsical and full of life, and you can't go wrong.
In a nutshell, when going for "kitschy," think quality over quantity. If you have a lot of decor with "quirk," simplify to show it off. Decor with pizzazz can spark conversation but you definitely don't want to overload! That's right, too much of a good thing… can go bad."
With such bright colors I thought it best to have a background of white so as not to distract from the brilliantly colored vintage accessories. White walls, white enameled cabinetry, white stove, simple white lighting fixtures, black refrigerator, and a black dishwasher. The yellow tile backsplash and formica countertops will look good with the white cabinetry and I can framed ceramic tile murals on the range walls and on the countertop beside it. What else could I chose for flooring with this scheme than white and black vinyl tiles in a checkerboard pattern?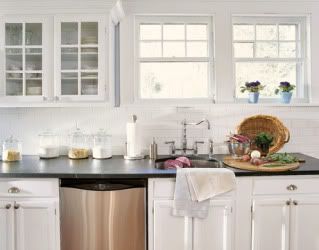 Some color coordinated yellow braided throw rugs can add a bit of color to the floor and pull it all together.
Maybe I will make something like the one I made a few years ago?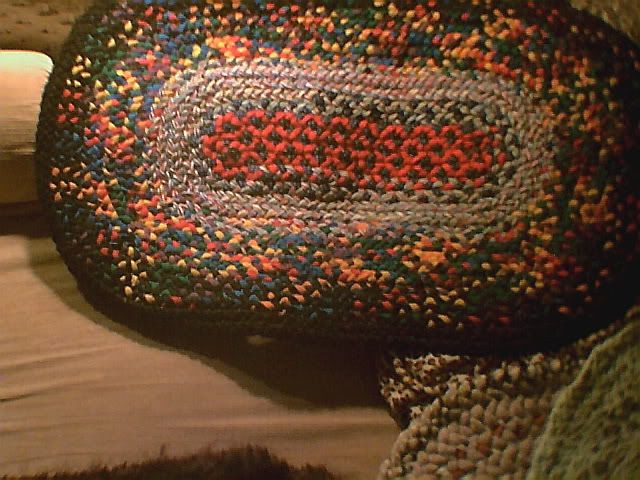 Since I am going with a red, yellow, and white 1940's kitchen decorating theme, I am going with citrus as a secondary theme and will use curtains, aprons, and potholders with those fruits in the motif.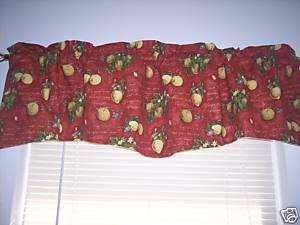 Glass knobs will really jazz up my furniture and cabinets and add an authentic vintage look.
Accessories for 1940's style kitchens can be found in antique malls as well as bought brand new.
Chrome accessories go well with this look. And I didn't forget the vintage breadbox and canisters - every kitchen had them on the counter and I chose red, yellow, and white to complete my look.
"Nowadays, it really is fashionable to find kitchens and laundry rooms filled with vintage electrics. The small appliances of yesteryear were made of metal, heavier than today's plastic versions, and they have an appealing vintage look to them. And considering that many older appliances are still working after all these years, including Mom's iron, maybe newer isn't always better."
What else could I find for a vintage themed kitchen? Just about everything we use today like chrome toasters, blenders, electric skillets and waffle irons.
My grandmother's table and chairs are a vintage wooden style table with a marble top. The white painted chairs will have jadeite needlepoint fruit motif cushions. Why not use my dad's collection of jadeite glassware that I can display in my white vintage china cabinet as well as use for dishware
mixed with my Spring Blossom green Corelle?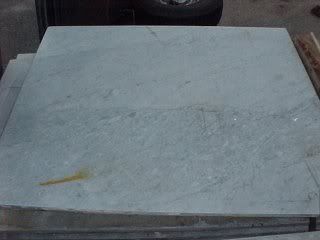 On the wall behind the breakfast area what about a yellow painted wall of white wicker bookcases holding books, mixed with a white wicker desk and file cabinet?