The luster of shiny new appliances can't compete with the virtues of Vintage: namely durability, simplicity, superior cooking, and a cool retro look.
Yes, that is my mantra. I guess you have figured out by now that I am a vintage kitchen equipment junkie........oh lord have pity on me.
All joking aside, whenever I look for a specific item I need, I am always drawn to the vintage version if one exists. For instance, I needed a kitchen scale, so I bought this one.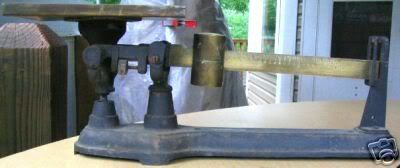 I wanted a dispenser to hold huge rolls of restaurant wraps, so I bought this one.
Before I was born, my parents kept their bills on this little thing.
When I searched for an electric deli meat slicer, I had to have this one.
I make a lot of iced tea or lemonade, especially in the summertime. So when I saw this 5 gallon drink dispenser I had to have it, and it stays in my refrigerator ready whenever I need a drink.
I love french onion soup, and the day I found 8 of these Descoware mini casseroles in a thrift shop, they came home with me!
As I get older, I need a place to sit and do kitchen work at times. I was at a garage sale when I saw this great old ice cream stool. All it needs is a coat of paint, and a new seat.

Hardly a necessity, but useful nonetheless, is this 1970s era spice seasoning chart printed on masonite. I glued magnet strips on the back, and now it is convienently mounted on the refrigerator door.