I hate lightweight thin casual glassware. I think glasses should feel substantial in the hand, so you KNOW you have a glass in your hand. I found some of these glasses one day in the thrift shop. I kept my eyes open for more, and discovered they were made by Libbey and the pattern is called Chivalry. They are marketed to restaurants and sold in restaurant supply stores.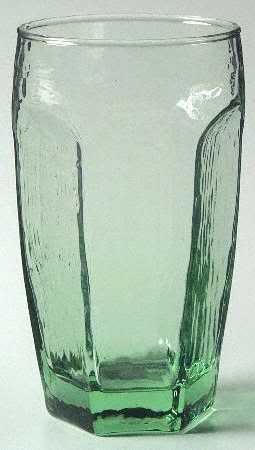 I hate flimsy cheap flatware with a passion! I tried this type, and that type until I visited my friendly neighborhood used restaurant supply store one day. They had a bin of what I later learned was Vollrath pistol grip flatware. They sold me the whole bin for about $8. I counted them later and found I had about 25 place settings. These feel good in my hand and I have been very satisfied.
Way back in the mid 1970s, I bought a set of 4 of Corelle Spring Blossom green dishes. My grandmother had a set also. Over the years I found more and more at thrift shops and gave them to my mother and my grandmother. When my mom and grandmother passed away, I found myself the owner of upwards of 30 place settings! I will never buy paper plates, cause if one of these breaks I'll never miss it.
I bought these dishes because they are dishwasher, oven, and microwave safe. They are also lightweight and comfortable to use compared to stoneware or ironstone. Isn't it odd that I like heavy flatware and heavy glassware, but lightweight dishware?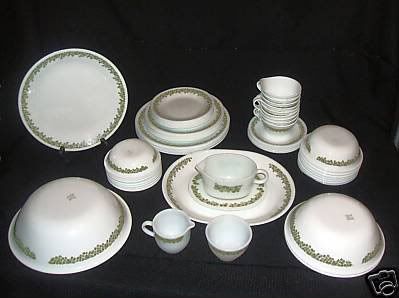 It goes without saying I had to have the matching pyrex mixing bowls!
It is difficult for me to admit, but I guess I'll have to just spit it out. Years before I had EVER heard of Martha Stewart, my father and I collected Jadite dishware. So at first when I saw her on TV showing off her collection I was gratified to see my taste validated. Then, the world jumped on the Jadite glass bandwagon and we were drowned in reproductions and go with accessories. I began to resent the intense love affair the world was having with this glassware. I even found out recently that Paula Deen collects Jadite dishware.
So as a stand alone, or mixed with the Spring Blossom green Corelle, my Jadite dishes are welcome additions to my breakfast table.